Electromagnetic Hypersensitivity (EHS)
is the medical term for a set of health symptoms whose cause is electrically based. It is also called Electrical Sensitivity (ES), EMF injured, Microwave or Radiation Sickness, and other names. Vested industry interests are trying to control the public's perception of EHS on Wikipedia by calling EHS pseudoscience, which is false, and harmful to people and the doctors trying to help them.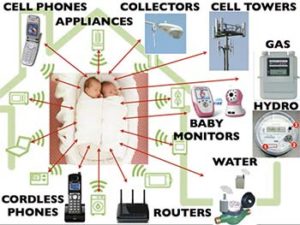 We are electromagnetic beings, and we are affected by electricity in our environment. The increasing saturation of wireless radiation (cell towers, cell and cordless phones, wi-fi and smart meters) pollutes our air and living environments.  In order to maintain health and wellness prudent avoidance of EMF's is advised. Symptoms can vary with each person, depending on:  the strength, type and length of EMF exposure; exposure to other environmental toxins; individual constitution; and basic health practices. Symptoms can be mild to severe including: sleep problems, tinnitus, chronic fatigue, headaches, concentration, memory, learning and immune system problems, heart palpitations. nausea, joint pain, swelling of face, neck, eye problems, rashes, and cancer. In order to heal, reducing exposures is imperative. Please see
Safety Tips
for steps you can take to reduce EMF's and start feeling better.
If you are sensitive to EMFs, you may experience symptoms like:1
Nervous system symptoms, like fatigue, stress and sleep disturbances
Skin symptoms, like facial prickling, burning sensations and rashes
Body symptoms, like pains and aches in your muscles
Eye symptoms, such as burning sensations
Foggy thinking and depression
A variety of less common symptoms, like ear, nose, and throat symptoms and digestive disorders
Infertility
Leukemia in children, breast cancer or cancer clusters have been linked to high exposure to EMFs2
What Are Electromagnetic Fields?
Electromagnetic fields are areas of energy that surround electronic devices. The World Health Organization (WHO) explains that the 
electric fields
are created by differences in voltage and 
magnetic fields
are created when the electric current flows.3 According to WHO, electromagnetic fields affect us because our human bodies have their own electric and biochemical responses (e.g., nervous system, digestion, brain function, heart function). So exposure to EMFs can interact with your body in adverse ways. Where Do Electromagnetic Fields Come From? Simply put, EMFs come from electricity:
In your home – DECT cordless phones, hairdryers, vacuums, refrigerators, microwave ovens, irons, televisions (the flat panel TVs are much better than the old box-style TVs), main ring and lighting circuits, dimmer switches, electric blankets, electric razors, electric toothbrushes, WiFi, etc.
In your office – computers, fluorescent or halogen lighting, fax machines, photocopiers, scanners, cell phones and WiFi.
Outside – power lines (high voltage cables either overhead or buried in the ground), transformers (the gray cylinders raised up on poles that look like trash cans), electrical substations, cell phone towers, cities that provide citywide wireless Internet (WiFi) and electromagnetic radiation from near neighbors' electronic equipment.