Mum claims 'Wi-Fi allergy' drove her daughter to suicide
By Brittany Vonow
16th November 2017, 11:39 am
Updated: 16th November 2017, 12:39 pm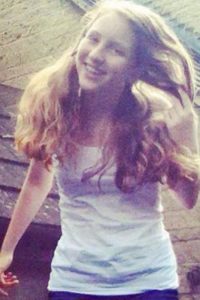 'IT MAKES THE SICK SICKER' Mum claims 'Wi-Fi allergy' drove her daughter to suicide as she appeals for it be banned from schools and hospitals
Debbie Fry's daughter Jenny was found dead in woodlands near her Cotswolds home when she was just 15
A MUM who claimed her teen daughter took her own life after being in constant misery due to a Wi-Fi allergy is fighting for wireless internet to be removed from every school.
Debbie Fry said her 15-year-old daughter Jenny suffered from tiredness, headaches and bladder problems every time she was near a wireless router.
Jenny took her own life when she was just 15
The teen was found dead in woodlands near her home in the Cotswolds, Oxfordshire, in 2015, with the coroner recording a narrative verdict on her cause of death, as there was no medical proof Jenny suffered from Electromagnetic Hypersensitivity Syndrome (EHS).
But Debbie is now on a mission to have Wi-Fi removed from all schools and hospitals – saying Government plans to introduce internet across the NHS were disastrous.
She told Gloucestershire Live: "They are planning to put in something that makes the sick, sicker.
"There's some urgency to which the whole of the UK's population needs to be told this technology is not as safe as we are led to believe."
The teen's mother is now campaigning to have Wi-Fi taken out of schools and hospitals
The teen's mother is now campaigning to have Wi-Fi taken out of schools and hospitals
Mrs Fry, who will now be one of the speakers to address a public health talk in Stroud over the weekend, had previously told the inquest into her daughter's death that Jenny had suffered from a mystery illness for three years before her death.
She said: "Jenny was getting ill and so was I. I did some research and found how dangerous Wi-Fi could be so I had it taken out of the house.
"Both Jenny and I were fine at home but Jenny continued to be ill at school in certain areas."
She vowed to keep fighting against having Wi-Fi in nurseries and schools, urging the government to research EHS.
What is electromagnetic hypersensitivy?
Posted in Electromagnetic Hypersensitivity, EMF-home-inspection, Safty and Remediation