Parents remove children school because of WIFI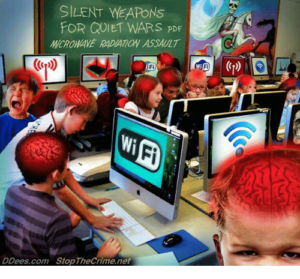 A mum has removed her children from school over fears the WiFi in the building was making them sick.
Alisa Keane from Downpatrick, Co Down , was dealing with recurring health problems with her sons, James, Conn and Dara.
They suffered severe headaches, nausea and problems with flagging and erratic concentration when in class but the symptoms vanished after spending an hour or two at home.
Alisa, 45, a trained teacher and communications expert, told Belfast Live: "I was very concerned about them. The issues seemed more pronounced with James who is the oldest, but all three boys were struggling with the same problems.
"When James told me he just couldn't think in school I was really concerned. He said he could only think straight when he was at home.
"This was from a very bright boy who loved to learn, he loved to participate but he was really struggling. He was even getting annoyed with his class mates when they chatted because it broke his concentration and he was feeling generally irritated. But once he was home, the fog lifted and he was able to get down to his work happily.
"But he often felt nauseous and had a runny nose from an inflammatory problem which took longer to ease off and by the time it did, he'd be back in class and the problem would start again.
"Their dad Mark and I noticed a pattern had developed and the only difference between their surroundings in school and home was that we had no WiFi at home, we use the Ethernet which is hard wired.
"I started researching to see if it was possible that radio frequency radiation, the RF/EMF that delivers WiFi to us, could be an issue and I learned that in their little primary school they had two industrial sized routers for 23 iPads.
"The more I researched the more concerned I became. I kept thinking about James telling us that he just couldn't think straight in school.
"I discovered Lloyds of London had dropped their insurance cover for WiFi use, and then discovered shockingly that the World Health Organisation International Agency for Research on Cancer classified wireless WiFi radiation as a Group 2B 'Possible Human Carcinogen'.
"Then they outlined how children's bodies absorb wireless radiation deeper into their bodies than adults.
"And what Dr Victoria Dunckley said worried me immensely. She explained WiFi in a classroom is constant, occurring all day every day, because signals are emitted by the access hubs even when the devices are not in use.
"She explains that the signals produced are also much stronger than those produced by your average home WiFi hub because the amount of bandwidth required to accommodate a large number of users.
"And in a school setting, multiple devices tend to be in use at once, which she says causes EMFs to reverberate and magnify one another.
"On 26 May 2017 I hand delivered a letter to the principal, including 20 scientific studies and reports on the adverse health effects from WiFi and wireless radiation.
"In the letter Mark and I asked for the WiFi in the school to be turned off, we asked that we receive the school's risk assessment for WiFi emitting devices and associated equipment.
"We also asked for their risk assessments for asbestos and lead and the Certificate of Indemnity from the schools insurance provider and underwriters confirming that any damages or adverse health effects from WiFi/wireless radiation were covered.
"A couple of weeks later the principal, wrote to us stating: 'As an employee of CCMS and in this capacity, I have made all reasonable enquiries into your request and have decided to continue to use WiFi in school."
"Mark and I offered to pay to have the Ethernet installed in the school at our expense but it was turned down."
A Freedom of Information request revealed that Tim Matchett, Head of Managed Services at C2k which is part of the Education Authority, confirmed that after contacting colleagues, contractors and staff within the wider EA, no risk assessment in relation to WiFi was held on file.
Alisa explained: "We discussed with the boys what we thought we should do to see if removing them from the school building would help. They were open to the idea and trusted us.
"So we took the boys out of school as a precaution. Their health and welfare is the responsibility of their parents, myself and Mark. We won't take any risks with that especially when the risk of WiFi is unnecessary.
"Within one week we noticed a vast difference in their health. Their headaches and nausea were gone, the runny nose and what appeared as allergy symptoms cleared up and they were all able to concentrate and focus.
"What they learned went in and stayed in. They were happy and healthy and that has not changed in the last year.
"We arranged play dates with their school friends and because as brothers, there are only three and a half years between them, they play together too. They go swimming and to Jiu Jitsu together and are very content.
"To be honest I was amazed by the difference in their health and even more so because it improved so quickly.
"So I have become their teacher and it's working out very well. It is not something I expected to do but I had to put their health first. Our hunch that they were sensitive to the WiFi in their school building appears to be correct and I know other parents who have concerns about the exposure.
"It has been deeply disappointing to know that the school and the CCMS did not act, did not accept our offer to pay for a different system and continue to have pupils exposed. It was just not a risk we wanted to take."
Alisa said she was concerned about a number of potential dangers now associated with WiFi exposure including the :
Contribution to the development of insomnia.
Damage to childhood development
Affect on cell growth
Derailing of brain function
Neutralising sperm
Possible impact on fertility
Provoking stress on the heart
Links to breast and brain cancer
Posted in Advocacy, EMF-home-inspection, Safty and Remediation, Wi-Fi